**FYI: I added some additional pictures to some of my posts from last week of our time in
Lake Orion with my family
and
our visit to Ann Arbor
, so be sure to check them out because there are lots of cute shots of your favorite big-eared dog, Lola Beans! (Also, Cam took a lot of the pictures I added, gotta give credit where it's due!)**
Hello from Longmont, Colorado! We've been here for about two days and so far I'm absolutely loving it! The weather has been awesome, our apartment is really nice, and the mountains are SO SO beautiful! After fixing the Jeep (thank goodness we were able to get that done so quickly!), we drove in from Nebraska and we got here Friday around lunchtime. It was a really clear day so we were able to get some really great views of the mountains driving in…
It was nice to see the mountains after driving through flat Nebraska for so long!
Don't mind the extremely dirty windshield…
Lola was clearly thrilled we made it
We were pleasantly surprised when we pulled into our apartment (we had only seen photos online since we didn't have time to come to Colorado before we moved!) as the complex is really really pretty! There's a great pool, lots of trees, and fantastic views of the mountains, and the buildings are nice. I don't have any pictures of the apartment in this post (I only had the chance to snap a few before the movers started bringing our stuff in!), but I plan on doing a post with pictures of the apartment ASAP! We're definitely still in the process of getting unpacked, but I'm excited to take some pictures as soon as I have things put together because our apartment is really cute.
We basically spent all Friday afternoon telling the movers where to put things and getting our washer and dryer and internet set up. (Oh yeah, I don't know if I mentioned this before or not but we've decided NOT to get cable TV…we did without it for a year in Ann Arbor, and we really want to try to be as active as possible while living here…so basically it's just going to be Hulu/Netflix from here on out…we'll see how this goes…) I did have the chance to do some driving around on Friday afternoon when I went to go pick up some lunch, and thankfully there are some stores really close to us! Also there are sidewalks and bike lanes EVERYWHERE so I could easily walk or bike to do errands which is something that I couldn't do in South Carolina. I was basically just driving around in awe of how behind all the normal suburban trappings like Home Depot and Red Robin, there are these beautiful snowy mountains! And my heart skipped a beat when I saw this…
That's right, there is a GIANT Super Target 3 minutes from my apartment, and although you can't really see it in this picture, there are beautiful mountains right behind it 🙂
After the movers finished up on Friday, Cam and I went to check out downtown Longmont and get some dinner. We ate a place called the Pumphouse Brewery, and it was great because we were able to bring Lola with us and eat out on the patio. Downtown Longmont is actually really cute, and I'm sure we'll be coming back to this place.
Their beer was pretty good…but I could definitely feel the altitude affecting me during dinner because two beers seemed more like four!
Their food was pretty good, my chopped salad was delish! (We also got some yummy garlic pretzels that I inhaled before I had a chance to take a picture…whoops)
I asked the waiter to take a picture of us…and he got superrr close…there goes your tip buddy…kidding…but seriously, no need to be right up in my face when you're taking a picture…
Saturday morning, we ventured out to the Longmont Farmer's Market and they seemed to have a pretty good selection of produce. However, it was definitely more expensive than the Farmer's Market in downtown Greenville, so I'm going to keep exploring and see how some of the others compare. But overall it was a lot of fun, and I'm really excited to start cooking!
This stand had a deal where you got a large bag and could fill it with whatever you wanted for $10–we got some redskin potatoes, some onions, garlic, etc.
There were also lots of food stands with interesting selections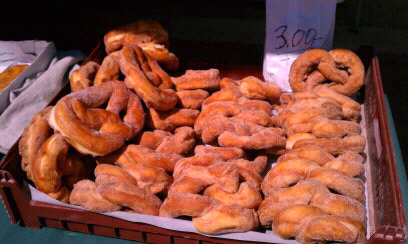 I got one of these babies for breakfast…amazeballs.
I really do love Colorado already 🙂
We got some herbs for to put out on our deck because we actually get quite a bit of sun. I got mint, sage, thyme, and rosemary, and then we also got a pot of mixed basil. I plan to make pesto out of the Genovese basil, but I'm not so sure what to do with the Thai basil and the purple basil…any suggestions??
Saturday afternoon, we tried to get some more unpacking done and for whatever reason, I felt like the stress of moving was finally starting to get to me. Since we had movers moving us, they basically just unpack every box and set things on the nearest flat surface. So on one hand, it's nice that they take away all the boxes and packing materials when they're done, but on the other hand it means there is just stuff EVERYWHERE. Why do two people have so much stuff? It really just causes me anxiety and creates this heaviness and so yesterday just felt a little overwhelming. I have a tendency when I'm stressed to blow up at Cameron about how he is doing little things wrong (well just differently then I would like them would be more correct) like putting the pans in the wrong cupboard or whatever, which in turn makes him upset that he is constantly getting criticized. So while we were getting on each other's nerves a little bit yesterday, we worked through it and things are all good. Except our stuff is still all over the place, but I know the apartment will all come together soon enough…Oh, and my only other minor complaint about our apartment itself is that the thermostat doesn't have a digital display with numbers, but rather it has a sliding temperature thing along the bottom. ANNOYING. I'll turn it to what I think is a comfortable temp then in twenty minutes I'll be freezing cold, so I turn it up a little the other way, and then all of the sudden it's blazing hot. Ugh. But I'm sure I'll figure it out eventually, and other than that, I absolutely love our new place 🙂
Cowboy boots are church appropriate in Colorado right? Right.
This morning, we got up to go to check out a church near our house called New Creation. I googled "Longmont churches" and I happened to see that John Bevere was speaking at this church today, so that pretty much made my decision. I had seen John's wife, Lisa, speak a few years ago at an event in Michigan and I really enjoyed it. The church seemed really nice and people were friendly and it's fairly close to our apartment. John's sermon was really great and he talked with passion about how God's grace is more than just forgiveness of sins, but really it's an empowerment to live an extraordinary life. Good stuff. Today also happened to be New Creation's church picnic, so although we were tempted to just get in the car and get home to keep unpacking, we decided to socialize instead. We ended up meeting a super nice couple, and they invited us to go hiking with them tomorrow, so yay for meeting new people. The picnic was in a park right across the street from the church, and there were so many beautiful roses all over the place, I couldn't stop taking pictures.
After church we've been trying to do some more unpacking but it's going
much
slower than either Cam or I would like. I think my little blogging break is about up, and it think it's time to go get changed for dinner. We're finally going to go check out Boulder, so I'm excited for that! Before I go, here are some pictures I took on the way home from church this morning 🙂 Hope everyone is having a great weekend, be back with some more photos soon! (Also, I'm thinking about adding a fashion page as part of the blog revamp, and I may work on that later tonight because I kind of want to include my church outfit from today…we shall see…) Ciao for now! xoxo