Merry Christmas Eve!!
I know that many of you have probably been traveling this week to go visit family for Christmas, and now it's finally here! For some families, Christmas Eve is the big day to get together, whereas other people have a bigger gathering on Christmas Day, and many people are probably doing something both days. So in light of that, I had a special topic I wanted to talk about that I'm sure will hit close to home for a lot of people, especially those of you are recently married…
How do you decide whose family to spend Christmas with?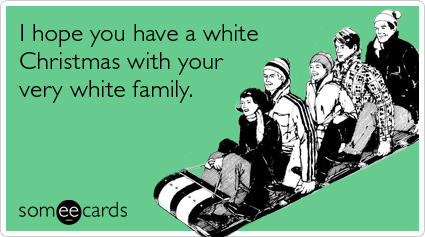 This made me laugh because it's true for both my family and Cam's…ha.
I'll be the first person to tell you that I love being married, and there are so many great thing about marriage. But one of the more challenging parts of wedded bliss that no one really tells you about is holidays, and the complications that can arise from trying to figure out where you're going to celebrate them each year. And of all the holidays to figure out, Christmas, for most people, seems to be the one that's the most important and can cause the most conflict.
Growing up, a lot of us, myself included, get used to doing the same thing with our family each Christmas. We open presents, we go to church, we have food and music, and over the years, create all sorts of special memories and this idea of how Christmas is "supposed to be." Then all of the sudden you get married and this other person comes along who has their own family they grew up with, their own traditions, and their idea of what Christmas is. So what now?
Granted, I realize everyone has a different situation. Maybe you and your spouse's families live nearby (lucky!) to each other so you can easily see both on the same day. But still, I know that it can sometimes be tricky if you have to drive two places in one day and you feel like you aren't getting enough time with either family. Maybe you're like Cam and I where your families live in different states (and you live in a different state than both of them!) so you have to choose to be with one or the other, so one of you won't get to be with your family on Christmas. And quite possibly, if either one of both of have parents who are divorced, you may have 3 or 4 places to choose from (a la Four Christmases!).
How do you decide where to go?
As humans we're often resistant to change, especially it comes to the emotionally-laden traditions of Christmas. It's easy to let our emotions get the best of us and allow conflict and resentment to come between us and our spouses. So quickly we can start to feel sorry for ourselves if we feel like we're missing out on something, and often times it can feel like you and your spouse are on two different sides. Suddenly family, what this season is supposed to be all about, can start to cause a lot of frustration, anxiety, and hurt feelings.
That's why it's so important to just take a step back, stop making a mountain out of a molehill, and re-examine your perspective. It's truly a blessing, not a curse, to have more than one place to go for the holidays. I realize that sometimes it can be tough to see it that way, but really it is. The fact that you have so many loved ones who want to celebrate Christmas with you is a beautiful thing, even if you aren't able to be with all of them on Dec. 25th. When you start to feel stressed out over where to go and who to spend the day with, give thanks that you even have these choices to make as there are so many people out there who have nowhere to go for Christmas, and no family to spend it with and would be happy to be in your shoes.
When you get married, you're creating a new family and new traditions and things are inevitably going to change from how they were when you a kid…and that's ok. I'm not saying it's not important to hold on to things that are special to your and your family, but you have to sometimes be willing to let certain things go and realize that you're going to be creating new memories and traditions with your spouse as well. Chances are your siblings are growing up and starting their own families too, and although it can be challenging to deal with all the change sometimes, it's a part of life that needs to be embraced. Rather than fixating on how things aren't exactly the same as they were in the past, it's really important to focus on the positive that all this change can bring.
I feel really blessed to have such great memories of spending Christmas with my family as a kid, and I married a sweet guy who feels the same way about his own family. I'm lucky to have awesome in-laws that have been nothing but generous and extremely welcoming to me. I truly feel like I am part of their family, and I know that Cam feels the same way about my family too. That being said, when Christmas Day rolls around, we'd both love to be with our own family, but being that they live across the country from each other, it's just not possible.
This year, we're spent this past week prior to Christmas and then we're spending Christmas Day in Oregon, and then we'll fly to Michigan on Dec. 26th to spend a week with my family. Both of our families are very understanding of whatever we chose to do for the holidays, as visiting either one usually means hoping on a plane. We've spent the past few Thanksgivings with my family, and then spent the last few Christmases in Oregon, but that doesn't mean that's how it will be forever. Both of our families just want to spend time with us, and whether that means celebrating Christmas tomorrow or 3 days from now, it's just being together that's important. Each year is different and we really have to take each holiday as it comes.
In less than two weeks, we're getting ready to embark on a big move, and I can honestly say I have no idea what we'll be doing at this time next year. I feel fortunate that for the past two year we've been able (both financially and with Cam having enough vacation time) to go to both Oregon and Michigan over the holidays, but I realize in the future we may not always be able to go both places. We figure as long as we have the time, we want to travel to both states and see both of our families, however, down the road it might not always be possible to do that. And then obviously, once we have kids it will be a whole different ball game, but all we can do is take each year as it comes.
So although it can be (very) tempting to give into emotions and stress, I think the most important thing in figuring out where to spend Christmas is just to really maintain a grateful heart and focus on the the good things about whatever situation you might be in. For me, I'm so thankful I get to spend Christmas with my husband because I know that there are many spouses out there who won't be together tomorrow. I'm also really glad that we get to be with Lola on Christmas this year, because last year we were in Oregon and she was in South Carolina. I'm excited for the new memories that our little family is creating each year, and I look forward to future Christmases together. I'm excited to celebrate the day with my in-laws tomorrow, and I'm really glad that I get to be a part of such a wonderful family. Of course I will feel sad tomorrow that I won't get to be with my parents, sister, grandparents, or extended family. My sister is actually traveling through Europe right now, and so I'm not going to get to see her at all this Christmas, and in a way, I feel guilty that neither one of us will be in Michigan with my parents tomorrow. However, I'm so glad we were all able to
spend a week in Colorado together over Thanksgiving
, and I'm so looking forward to flying to Michigan on Monday. It will be great to see my parents, spend time with my extended family, and celebrating Christmas in Michigan, even if it is a few days late, because just being together is what's important.
I'd love to hear, where are you spending the holidays this year? How do you and your spouse decide where to spend Christmas?
Wherever you are, have a lovely Christmas Eve! Xoxo