Happy Monday everyone!
This weekend was relaxing yet productive, which is a great combo if you ask me! I wanted to share my favorite dresses from last night's Academy Awards…which I didn't even end up watching! I love the Oscars and I was planning on watching them, but yesterday Cam and I ended up having a full day of skiing and running errands and I didn't make it home in time to tune in. Oh well. But from the photos of the gowns that the stars chose it looks like I didn't miss much (because let's be honest, I totally watch it to see what everyone is wearing!). I was definitely a little underwhelmed with this year's overall fashion pool, but there were three colorful looks that I thought stood out from the rest…
I love how these three ladies made bright, beautiful choices last night and I thought they all looked stunning. Here's a breakdown of their looks, in order of my favorites…
I think that Emma Stone is gorgeous and has incredible style. She always makes great choices on the red carpet and this Giambattista Valli gown was no exception…I absolutely love the color and the bow, and thought she looked amazing
Source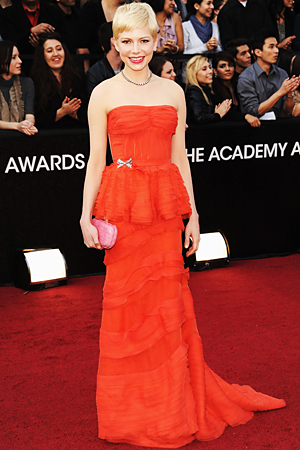 Michelle Williams incorporated two of my favorite spring trends in her look last night–orange and peplum! I thought she looked realy pretty, and this vintage Louis Vuitton dress was really fashion forward.
Source
I thought new mom Natalie Portman's polka dot Dior Haute Couture gown was a really fun choice. I love the bright red color and I like that she wore her hair down for a change. Overall, it was classic yet unexpected.
Source
Those are my picks! Who did you think looked best last night?
Here's to a new week, let's make it wonderful everyone! Xoxo