Happy Tuesday friends, I hope that your week is off to a fabulous start!
Cameron and I had a low key, but really nice weekend. Friday night, we went to the beach, watched the sunset, then went out for Mexican food. Saturday, we did some spring cleaning and got together a ton of stuff to get rid of. We made a trip to Goodwill, got a Costco membership (which I'm pretty sure means we're officially old), and ran some other errands. Sunday we had originally planned to go hiking but with thunderstorms in the forecast, we decided to change our plans. We ended up taking an impromptu day trip to Sacramento where we ate a delicious brunch downtown, spent the day shopping (Cam needed a new suit, I wanted needed boyfriend jeans), and went out for Mexican food again. It was Cinco de Mayo weekend, so that's totally allowed. Good times.
(Of course the weekend was documented via Instagram which you can see
here
)
And then yesterday we woke up to snow, and it proceeded to sleet/snow/rain/be disgusting for the entire day. Way to add insult to injury Monday. On top of that, we're having some serious issues with our DSLR right now, so unfortunately that means posts are going to have to rely on Instagrams or internet photos until further notice. Whomp whomp.
But on the bright side, last night was the Metropolitan Museum of Art's Costume Institute Gala aka the Met Gala aka one of my favorite red-carpet nights of the year (outside of the Oscars). This is an event where celebrities tend to take more risks and try out more fashion forward looks, and it's always a lot of fun to see what everyone is wearing. The Met Gala always has a theme and last night's was "PUNK: Chaos to Couture". A lot of celebs seemed to incorporate the "punk" concept into their look, while still looking gorgeous and elegant. Here are some of my favorites looks from last night:
Blake Lively in Gucci
Taylor Swift in J. Mendel
Elizabeth Banks in Versace
Jessica Alba in Tory Burch
Carey Mulligan in Alexander Wang
Rooney Mara (one this event's co-chairs this year!) in Givenchy
Miranda Kerr in Michael Kors (a little ridiculous, but hey if you've got it flaunt it!)
Emma (great abs) Watson in Prabal Gurung
Ivanka Trump in Juan Carlos Obando
And then some people chose to take the punk theme and go completely over the top with it. Here are the celebs I thought looked way more "chaos" than "couture" last night:
You know I love Queen Bey, but this just looks stupid
Nicole Richie looks like a Smurf or a Troll doll or something
Speak of the devil…ha!
K.Stew makes Miley Cyrus look like a saint, she's seriously the worst
An unrecognizable January Jones in a rather boring dress (but I do like the shoes!)
Katy Perry looking ridiculous, which is a shame because she's so pretty
Speaking of ridiculous, this picture from last night of Jennifer Lawrence touching SJP's headdress was awesome. This is why J.Law is America's sweetheart because she actually says and does the things the rest of us are thinking aka if someone is wearing a headdress, obviously you need to touch it and see what it feels like. Duh.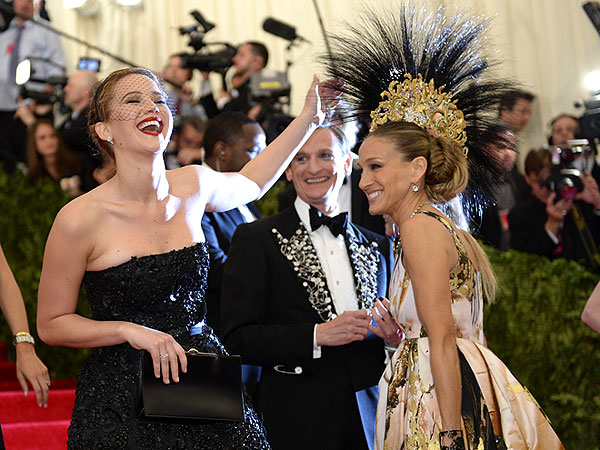 As for my worst-dressed award last night, that definitely goes to Kim Kardashian. First off, I don't think it's right how critical people are being about the amount of weight she's gained during her pregnancy. Every woman is different and the amount of weight she gains (or doesn't gain….*cough* Kate Middleton) while carrying a baby is no one's business but her own. However, I will say that Kimmy has made some downright awful fashion choices so far during her pregnancy that are super unflattering, and last night was no exception.
The floral print, the attached gloves, the silhouette, it's all just bad. I seriously hope she and Kanye do not name their child North West. Ugh.
Anyway, that's all I've got today! Have a wonderful Tuesday everyone! Xoxo