Happy Monday Y'all! As indicated by my last post, this weekend my hubby and I were out of town in…Savannah! His parents and brother and sister-in-law are in town from Oregon, so we all headed down to Savannah for the weekend so they could experience the lowcountry. We actually went there with his parents back in October, but it was nice to get the chance to go again. Savannah has such a unique feeling to me, it's definitely different than Charleston, but it's a really cool city in it's own right. Charleston is all palm trees, big beautiful homes, and manicured gardens, where as in Savannah there are all these beautiful giant live oak trees overgrown with Spanish moss and the city itself has more of a spooky feeling, and I enjoyed getting another chance to explore it's charm. Cam's parents were nice enough to get us a sweet room at the Hilton with an AWESOME view of the cathedral of St. John the Baptist, as referenced in my previous "Where in the World Am I" post. Here are some pictures of the rest of the weekend; Cam's family isn't so much about the crazy let's take pictures of each other every five minutes like my family is…so most of these are scenery shots 🙂
Hubby and I on our balcony over looking the city!
View of the cathedral (in my last post, this picture had this weird reflection? Idk why…)
Hotel 🙂
Love all the old trees and Spanish moss!
Presbyterian Church from the beginning of 'Forest Gump'
Lots of cute antique stores
Pretty architecture
One of the many beautiful squares around the city
I love how people rent out the squares for weddings, so cool!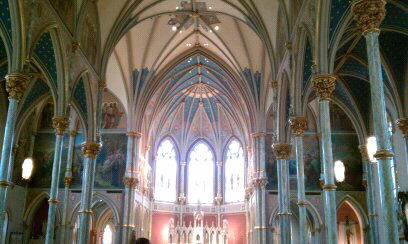 Beautiful interior
They're famous for their flounder, so I had to try it…it was delicious!
Leopold's Ice Cream Shop is a great place to get a delicious milkshake when it's 95 degrees, like it was this weekend 🙂
I think the Savannah College of Art and Design brings a lot of youth and creativity to the city, and I was so glad we were able to check out some of the awesome student fashions on display in the library
Had to stop at the Maritime Museum…not my choice, but it was actually pretty interesting…
I had to get in a little shopping of course! Broughton Street has some really cute shops, it's not Charleston, but it will do for an afternoon…I ended up going w/ the brown, more on that later…
How adorable is the home stuff at DC2 Design?! I wanted everything in this store!!
One of the pictures taking from the hearse we rode in for our ghost tour…yeah.
My sister-in-law Ashley and I at Fort Pulaski
Bros
After swimming on Tybee Island on Sunday (which I wasn't super impressed with, I thought the beaches up near Charleston were much nicer), we had lunch at this adorable place right on the water
They had a whole pond full of alligators!
As well as some interesting exotic birds…
Family 🙂
I actually took all my pictures this weekend with my new phone that I got last week! I finally decided to stop being Amish, take the plunge and get a smart phone! I have Sprint, so I got a HTC Evo and I LOVE it! It's still taking me a little time to get used to the touch screen and figure out all the features of the phone, but so far it's awesome to be able to blog and take photos on the go!
I ordered this pink and white case from Amazon, and it's supposed to be coming in later this week…can't wait!
Two things I love about my phone: it makes it much easier to look up information when traveling and it makes it that much easier to get food pictures without having to be the awkward person in the restaurant pulling out their camera. Case in point, the burger photo below. On the way home from Savannah yesterday, I looked up places that had been featured on
Food Network's Diners, Drive-Ins, and Dives
, because I thought I remembered there being a place in Columbia. I saw this place on the list called
Pawley's Front Porch
that was featured in their episode about great burgers, so Cam and I decided to stop…and it was an excellent choice! So so delicious. All their burgers are named after islands of the coast of SC, and the burger I got had delicious homemade salsa, boursin cheese, and friend green tomatoes…yum! If you're ever in Columbia, SC, check this place out! 🙂

Nothing beats a burger, a beer, and sweet potato fries!