Pink & Green: SC Lilly unofficial colors 🙂
I don't really think it's hit me yet that we are leaving South Carolina tomorrow in less than 2 hours. In a way it feels like this good-bye has been dragging out for awhile, and that's kind of why it doesn't feel real yet. But ready or not, our time in South Carolina has come to a bittersweet end. So here are some final thoughts…mainly because I couldn't sleep, and let's face it, Cam is going to be driving and I will inevitably pass out like an infant as I do every. single. car. trip.
Anyhoo, this week has been a little bit chaotic in trying to get everything all ready. Thankfully, Cam's company is moving us so we didn't have to worry about the majority of the packing/heavy lifting, which was really great. (Much nicer than our move down here!)
All those beautiful boxes…and not a single one packed by moi
Good bye stuff, see you in Colorado!
The movers came on Monday, so the rest of this week has mainly been cleaning, running errands, and taking care of packing up the few things we kept to bring with us in the Jeep. So we've been sleeping on our air mattress, and Lola has been trying to figure out what the heck is going on.
Why sleep in my own bed when I can sleep on Mom & Dad's air mattress?
And despite our best efforts, there were a few things that we managed to send with the movers that we needed this week. Like Lola's dog shampoo; I had to give her a bath tonight with Garnier Fructis. Ha. Oh and this fun little incident from the other night:
Just in case I'm the only person on the face of the earth who didn't know this–dishwashing detergent and hand dishwashing soap are NOT the same thing. Lesson learned.
For our last night in Greenville, Cam and I wanted some "real" Southern food, so we decided to try out Henry's Smokehouse. I got chicken, ribs, and mac & cheese, and while it was pretty good, I still think that Bucky's is better.
I should have gotten 2 sides of mac & cheese
After dinner, we headed downtown for one last visit to my favorite gelato joint, Luna Rosa. We came to LR our first night in Greenville after moving in, so it was only fitting that we go there the night we move out. I'm definitely going to miss this place!
So pretty 🙂 (this is only half of the flavors)
I got S'more Please and Cookies and Cream, yum!
I was kind of bummed because last night was sort of rainy and cool, but after finishing our gelato, we decided to take one last walk down to Falls Park. When we've had people visit, our standard routine is always to go to dinner, get ice cream or gelato, then walk down here. Everyone is always so impressed by the falls and the suspension bridge, as I was the first night we moved in, and I never get tired of going down there.
I love that there are always lots of people walking around downtown on the weekends…ps: how adorable is this banjo player!?
As we were walking, the rainy dreariness faded away and we were able to witness one of the most gorgeous sunset skies I've ever seen. It was such a perfect way to end our time in Greenville, these pictures don't even come close to capturing how amazingly beautiful it was. (But for pictures taken with a cell phone camera, I think they're not too bad!)
The colors kept changing so I was able to get a lot of different shots
Seeing that sunset was just another wonderful memory top off of our fabulous year in Greenville. South Carolina will always hold a special place in my heart, and I'll take these amazing memories with me wherever I go.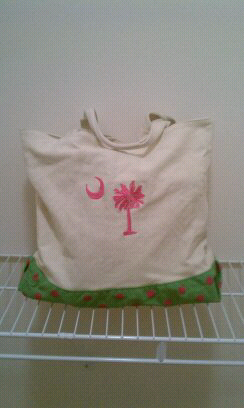 Literally. Here's my pink & green Palmetto tree tote I'm going to take w/ me
People in South Carolina definitely have state pride (they were the first state to secede from the Union, hence some might claim they are the most Southern…or so I'm told…) and I'm going to miss seeing the Palmetto tree &crescent moon stickers all over the place.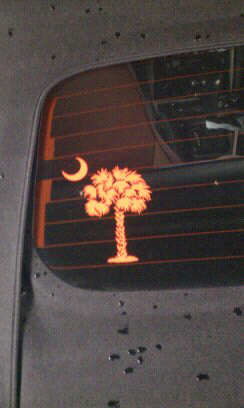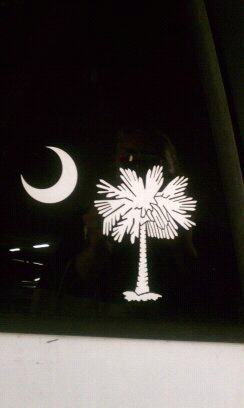 Literally, everyone has one on their car, I kid you not.
I'm also going to miss the preppy, polished way everyone dresses down here. Going out to dinner last night, we saw so many cute couples, both young and old, with girls all dolled up in great sundresses and guys looking snappy in a polo or button down. (I had on a t-shirt and shorts from running around like a chicken with my head cut off all day. Adorable.) I love the feminine, colorful, pretty style of the South, and hope to take that with me wherever I go. Most of all, I'm going to miss the kindness and warmth of everyone we've met down here that made us feel so welcome. I may be leaving the South, but I feel like somewhat of an adopted South Carolinian, and I'll definitely be coming back again (even if only for a visit).
Ok, time to load up the Jeep and hit the road for Meechigan! I'm really hoping to start playing around with our new camera and take some good pics of our time in Michigan/our drive to Colorado. However, I know this week is going to be busy, so bear with me if the posts are a little infrequent! Have a great weekend everyone! xoxo