Happy Wednesday everyone! We arrived home from our trip to Oregon last night (and went straight from the airport to an event for Cam's work!), so I'm a little bit tired today. I've been trying to play catch-up today at work and figure out exactly what needs to be wrapped up before our move to Colorado…which is less than two weeks away! (Gahhhh) With all the impending chaos of a cross-country move, it was really nice to have a little vacation, spend time with Cam's family in Oregon, and I'm really glad I finally got to see Seattle! Here are some pictures from our trip, hope that everyone is having a great week! 🙂

We flew in to Portland on Thursday, Cam's parents picked us up, and we headed straight up to Seattle!
View from dinner the first night, so pretty!

I was excited to watch them throw the fish inside the market
So much seafood!
Pretty peonies at the market–my favorite flower 🙂
Lots of people!
And you know being the tourist that I am, of course we had to make a trip to the first Starbucks!
Inside the Starbucks…I saw a bunch of people taking this picture…so I decided to take one too… 🙂
It was actually really small inside…and super crowded!
Cameron being a tourist with me 🙂
I love all the totem poles and other Pacific Northwest style art
Pretty historic walkway reminded me of the Metro in Paris
My mother-in-law and I in front of one of the 12389461 Starbucks in Seattle–she loves Starbucks even more than I do which is saying a lot!
Another one of my favorite stores, Nordstrom, also started in Seattle!
(Photo Source)
I picked up this super cute Clinique bonus kit while I was at Nordstrom (love the lipgloss key chain!) because I was out of their Even Better Spot Corrector, however, I didn't end up getting my Tom's sunglasses 🙁 I tried them on and they looked ridiculously small on my giant head. Cool. (They only had the two plastic styles though, there might still be hope if I can find the aviators somewhere…)
We didn't end up going up in the Space Needle because it was overcast (shocker), but maybe next time, as I'm sure we'll be coming back for another visit to Seattle in the future! 🙂
On the way back to Oregon, we stopped in Gig Harbor, Washington, which was really pretty…it kind of reminded me of some of my favorite little towns in Northern Michigan…
Cam and his dad
Love.
Once we got back to Oregon, it was great to be able to relax and hang out with the family, especially our little niece who just turned one! 🙂

And how cute is our other bro & sis-in-law's new puppy Jack?! So sweet 🙂
So my husband, his dad, and his brothers all love doing anything that involves wheels, whether it's a car, a motorcycle, a go-kart, you name it, they love it! One of their favorite family pastimes is going off-roading…so while we were there, we spent all Saturday in the Tillamook Forest with a Jeep and two quads going on the trails…it was…fun…definitely not something I'm used to doing, but it's something that's important to Cam, so I'm trying to understand it a little more 🙂
We started out with Cam's dad driving the Jeep, the boys on the quads, and I was a passenger in the Jeep…they took turns driving/riding…but I remained a passenger…some of the trails were really intense!
The trails don't look nearly as steep in the pictures as they did in real life!
Woo Jeeps!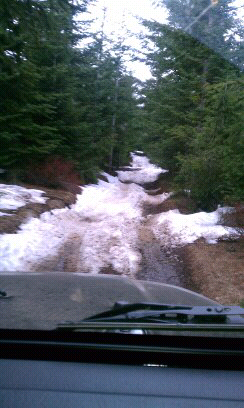 There was still snow on some of the trails, a sign that we're definitely not in the South anymore!
I love this picture because it shows Cam in his element… 🙂
This isn't my element, but I'm trying!
Near the top we got some amazing views (which was a nice reward for being in the Jeep for 3+ hrs!)
We even got some blue (albeit cloudy) skies!
I'm still new to this whole off-roading thing…so I still don't quite understand why people want to do this to their car…
…for fun?
At the end of our day of off-roading, Cam's dad insisted that I try driving a stick shift…because I never had before…so I drove the Jeep…across the parking lot… 🙂
And last but not least, one of my absolute favorite parts about visiting Cam's family is going to Portland and trying out new restaurants. The city has an amazing food scene and there are always lots of interesting places to try. Here are some of our stops from this trip…
Voodoo Donut: I've read a lot about how this place is a Portland landmark, so this trip I just had to try it. But as luck would have it, the location right downtown is closed for remodeling right now. So we to drive over to their other location, Vodoo Too, on the other side of the river. I was thinking that it wouldn't be busy…but I was wrong…it was packed. We had to wait in line for about 40 minutes to get our donuts, but at least now I can say I've had the experience. The best way I can describe Vodoo would be if LA Ink and Dunkin Donuts had a baby and all the donuts were 10x more delicious and had dirty names like Triple Chocolate Penetration. (That wasn't even the worst donut name…not by a long shot) Both donuts I had were delicious (yes, both…after waiting in line for that long I wasn't just going to get one!) but I probably won't be going back for awhile!
Note the old school Kenny Rogers oil painting behind the counter…and there were so many kinds of donuts to choose from I kept changing my mind while we were waiting in line…
Finally got our donuts!
My delicious "Dirt" donut
Pok Pok: We heard that this place had excellent Thai food, so we decided to give it a try. However, we didn't end up getting there until about 2:30pm, so they didn't have their full lunch menu available, but rather a smaller select menu of some of their best dishes. This restaurant has a small indoor seating area, and then some outdoor patio seating as well, which is where we sat. I'll admit, this restaurant was different then I expected; when I thought "Thai" food, I was thinking that it would be a lot of noodle dishes, however, Pok Pok's menu is based off of Thai street food and strives to be very authentic. Cam got pork sateh, and I got some Vietnamese fish sauce wings, and while it wasn't really my favorite type of food, it's definitely worth a try if you're looking for something different!
Clyde Common: I didn't get any food pics from this restaurant, but it was a place that I really enjoyed. It's located inside the Ace Hotel and it's got this really hip, European vibe. (The bathrooms were even marked with the letters WC…ha) We were seated at a long, communal style table, however, the restaurant is fairly noisy, so it's not awkward sitting next to strangers. It's a very open and bright space with bartenders constantly shaking up interesting drinks, and I really liked the overall atmosphere, which I found to be relaxed yet stylish. I had the arugula pappardelle, with morels, pickled peppers, and chèvre, and it was delicious! Everyone else seemed to enjoy their entrees as well, my only complaint about the restaurant is that I was too full from the donuts to try the desserts because they looked excellent!

And last but not least, if you're ever in Portland, go to the Pearl District and eat at Piazza Italia. This place is the bomb.com. It's super authentic Italian, and their pesto with their homemade pappardelle is amazing. (That picture isn't the best, but trust me, it's awesome!) This wasn't my first visit to Piazza Italia, but I'll definitely be coming back next time I'm in Oregon!
Ciao for now! 🙂