Happy Monday everybody! How was your weekend?
Mine was fairly low-key and it was great to relax, especially since we're going out of town at the end of this week! I didn't take many photos this weekend, but I thought I'd share the few I had on my phone for
the link-up over on Story of My Life
…
1. Friday night, I went to get my nails done with one of Cam's coworkers who's also new to Tahoe. We went to a place called Perfectly Polished in South Lake Tahoe–it was a such a cute salon and I'll definitely be going back!
2. I got a shellac manicure, and they did an awesome job! I decided to go with a bright pink and I absolutely love the color (even though you can't see it that great in this photo because the lighting isn't great but it's a perfect for Valentine's week!
3. Saturday morning Starbucks…how cute are their Valentine's cups?!
4. Saturday afternoon, Cam and I decided to go for a little drive to explore some more of the area, but the road we were planning on taking was closed for the winter. So we decided to head home to relax, cuddle on the couch, and watch a marathon of Worst Cooks in America on Food Network…and Lola and I indulged in a little cat nap. So nice.
5. I still can't believe I live here…so surreal.
(And this isn't even a good picture since it was taken on a cloudy afternoon…the clear mornings and the sunsets are 10x better and make me feel so lucky to be living where I am)
That's it for the photos from this weekend…not pictured?
A Saturday night movie date…Cam and I finally went to see The Artist! (It was my turn to pick the movie and originally, I wanted to see The Vow but after hearing some mixed reviews I think I'm going to wait and rent it…) I love seeing the movies that are nominated for Oscars before the awards ceremony. I was especially intrigued by The Artist since it's a silent film shot in black and white and has gotten a lot of great buzz. The movie was incredibly charming and extremely well-made (I loved the 1920's costumes!). I'll admit, it didn't grab my attention the way some movies do (I think it was the lack of talking…) but it was a very pleasant film and the dog in the movie was so stinkin' cute.
(PS: Personally, I liked
this movie
that we saw a few weeks ago much better)
Yesterday, we decided to go skiing and I didn't even bother taking any pictures because everything basically looked exactly the same as
last weekend
…not that that's a bad thing. I just didn't feel like taking my gloves off to try and get more pictures of the lake/goofy pictures of moi on the chairlift. The only thing was conditions yesterday were really terrible. Tahoe has barely gotten any snow since we've been here, so pretty much all the snow on the mountain right now is man made aka super icy and gross. We only ended up staying for a few hours before heading the five minutes home. Since we went skiing in the morning, we decided to try out a new church in the area that has a Sunday night service. We both really liked it so I'm excited about that!
And finally, the Grammy's were on last night! While I only caught a few different performances because Cam and I were watching the premiere of Worst Cooks in America on Food Network (did anyone else watch that show? I love it and I'm so excited that Bobby Flay is on this season!), I wanted to share a few of my favorite fashion choices from the evening…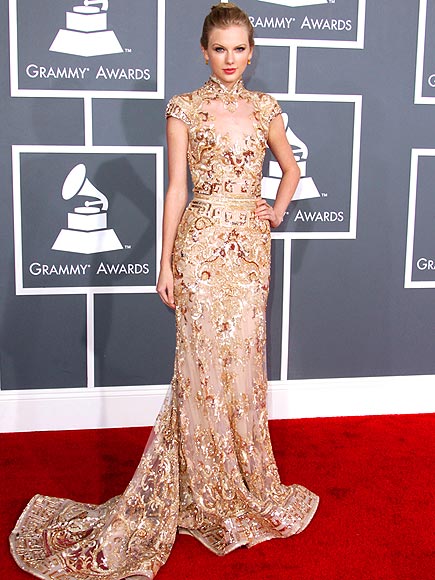 I loved Taylor Swift's look because it was definitely a departure from what we usually see her wearing, yet it still looked like her. So pretty.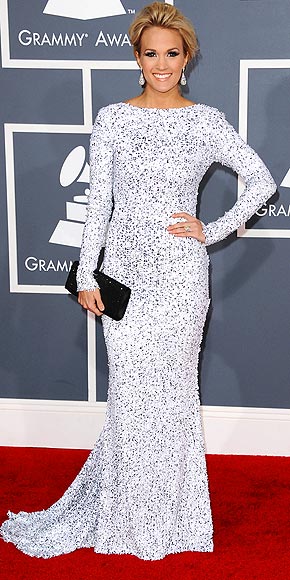 Carrie always looks flawless and last night was no exception. Seriously, does the girl ever not look gorgeous?!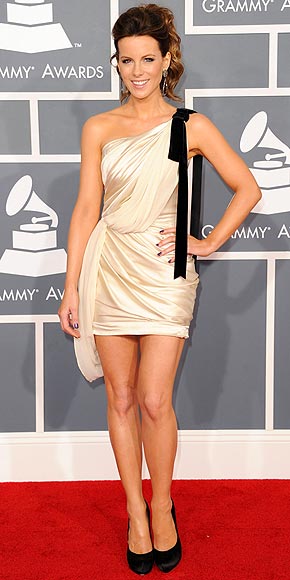 Even though she has nothing to do with music, I thought presenter Kate Beckinsale's look was really chic. She always looks great, and I really love this black and white dress.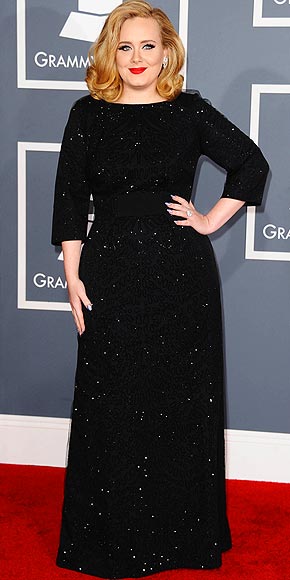 And last but not least, I thought Adele looked amazing last night. I did see her performance (amazing!) and I loved the polka dot dress she wore for that too. She's got this great retro glam style, and she's so incredibly talented. She so deserved the 6 Grammys she took home! 🙂
All images via People.com
That's all for me, it's time to go tackle the week! Hope you're weekend was fabulous! Xoxo