With summer being such a busy time for weddings, I wanted to take a day to talk about gifts!
At my beautiful bridal shower back in spring 2009, I can't believe it was over four years ago!
I'll be the first one to admit that getting gifts is one of the really fun parts about the whole wedding experience. I mean, it's not every day that you get to pick out your favorite stores, put together a list of stuff you want, and then have people buy go buy you presents! At the same time, putting together your registry as a bride can also be very overwhelming as it can be difficult to know what to choose. I was pretty much the first one out of all my friends to get married, and in the last four years I've had multiple people ask my opinion on wedding gifts/what was the best gift that we received for our shower/wedding. So I thought I'd share my two cents on the subject in hopes of providing a little guidance to those of you who may be trying to figure out what to give for the weddings/showers you'll be attending this summer!
1. You can never go wrong with money: Although some people think it's impersonal, I really think that money is a great wedding gift. I so appreciated everyone who gave us money for our wedding as that allowed us to take a six-week trip to Europe the following year. A wedding is all about the couple starting a life together and to me, giving them money is a great way to contribute because they can use it for whatever they want–a down payment on a house, travel expenses, or just to bolster up their savings since they did just have a wedding after all! As for how much to give, that's totally personal. I really think it really depends on how close you are to the person, along with being mindful of what you can afford, especially if you have to factor in travel expenses for an out-of-state/destination wedding. At the end of the day, I think that any bride and groom will just be happy that you could be a part of their special day, and any amount would be appreciated.
2. A gift card can be a great choice: If you want to give something a little bit different than money, gift cards are a great way to go. Giving the happy couple a gift card to one of the places they've registered can be a great idea as chances are they probably didn't get everything on their registry, and I know that quite a few stores will allow the bride and groom to go back and purchased things from their registry that they didn't receive at a discounted price. We registered at Crate & Barrel and Macy's and were fortunate enough to receive gift cards to both places and they really came in handy after the wedding. In addition, we also got some gift cards to other places like Target/Bed Bath & Beyond/Sears, and those were all really useful as well as you can always use stuff from those places!
3. Treat the couple to an experience: Before your wedding, there is so much build-up to that big day that once it's over, I think it can be normal to feel a little down. Similar to the way you feel at the end of a big vacation, this event you've been anticipating for months is done and it can be a little sad! I think that a fun way to offset that would be to get the couple tickets for a concert or a gift certificate to a nice restaurant, that way they have something to look forward to in the months to come. Another fun idea along these same lines is a monthly subscription box that the couple can look forward to getting in the mail after the wedding festivities are done. I personally think that a Birchbox subscription could be a great shower gift for the bride to be, while any of the Zingerman's Monthly Clubs would be a tasty and unique choice for a foodie couple!
4. Choosing something from the registry: When trying to chose a gift off of the couple's registry, it can often be a little daunting to know what to select. However, the good news is that if you're buying something from one of the places where a couple is registered, they can easily return it should they decide that maybe something they didn't receive is a higher priority instead. Cameron and I registered at Macy's and Crate & Barrel and we received a lot of great gifts off our registry that we use everyday. It was so much fun getting all those black and white Crate and Barrel boxes delivered in the months leading up to our wedding, and I think any bride and groom would appreciate getting a gift they've picked out. Off the top of my head, a few of my favorite items that we received from our registry include our Kitchen-Aid mixer (and ice cream maker attachment!), this glass cake plate, our pots and pans, my cupcake carrier, our everyday dishes, and our electric griddle!
5. Make it personal: If you don't want to go the money/gift card/registry route, think carefully before giving the couple a personalized gift. Don't get me wrong, a personalized gift can be incredibly thoughtful and we were blessed by some really creative gifts from friends and family that I cherish. At the same time, it's kind of silly to spend a ton of time and money on a present that the couple might not need/want and can't return. Basically, I think it really comes down to how well you know the bride and groom; if there is a unique gift that you think they would love, then by all means go for it! (But when in doubt, I'd stick with money) That being said, here are a few of my favorite personalized gift ideas:
I first saw these cutting boards over on
Cup of Jo
a long time ago and thought they were so adorable. They're made by a husband/wife team based out of Brooklyn who initially made state-shaped cutting boards for their own wedding reception, but they ended up being so popular that a business was born! I love that you can get a heart, star, or house imprinted on the board in the location of a particular city, and you can also make it even more personalized by including the couple's initials and/or wedding date. I totally want one of these!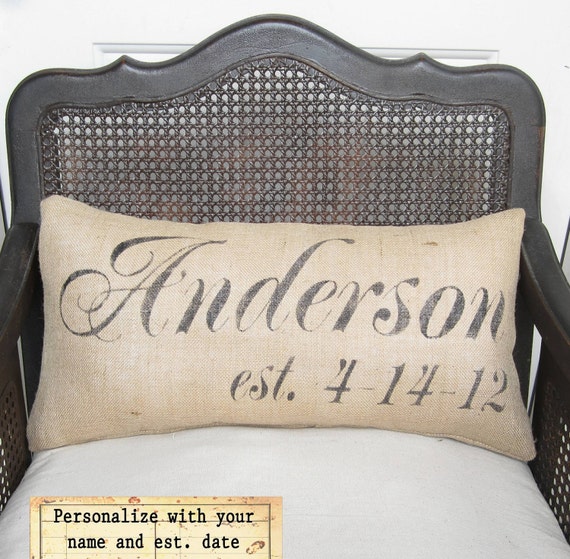 I first saw this pillow on
Katie's blog
and though it was ridiculously cute. I'm a sucker for anything burlap (such a blogger cliche I know) and I love how
this Etsy shop
offers a bunch of fun options for pillows. You can get the couple's initials, just their wedding date, their last name and wedding date, or a variety of other options. Plus, since the burlap is fairly neutral it's something that will most likely fit with anyone's home decor, especially newlyweds that most likely are in the process of decorating. I think this could also be a fun gift for a new baby!
After living in South Carolina for the year, I can attest to the fact that Southern girls
LOVE
their monograms and put them on
everything
. I personally think it's adorable and a great gift idea for a bride-to-be to celebrate her new initials. Marley Lilly is the go-to place for monogrammed items, they seriously have SO many cute options that would be perfect for a shower or bachelorette party present. I absolutely love the
derby hats
, the
cross-body clutches
, the
pullovers
, and the
spa wraps
myself, but everything on the site is super cute!
Speaking of monograms, another fun gift idea for the bride to be is a classic canvas boat tote from Lands' End. These bags come in a variety of colors and sizes, and it's the perfect thing to get monogrammed with the bride's new initials that she'll be able to use for years to come. I actually received one of these for a gift when I got married from a good friend; the tote has held up really well and I still use it all the time! I think a fun gift idea would be to fill the tote with stuff for the honeymoon (magazines, plane snacks, sunglasses, flip flops, etc) as it's the perfect bag for traveling!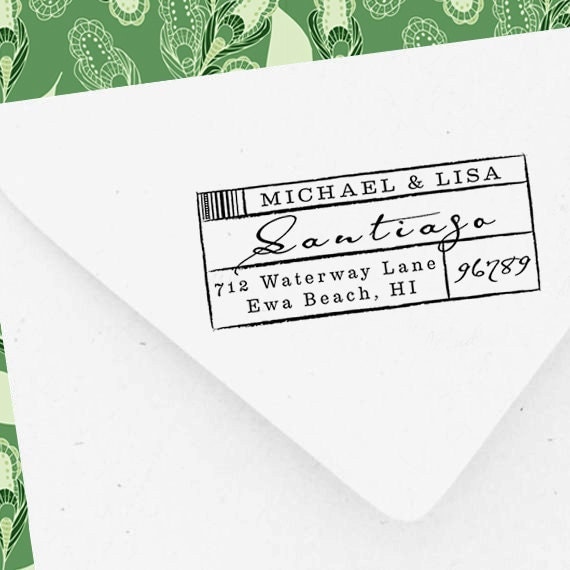 After receiving all these wedding gifts, the new bride and groom will inevitably have to tackle the task of writing thank you notes…but you can make that a little more fun by giving them a personalized address stamp! I have wanted to purchase one for the longest time, but being we've been moving around, I haven't done so yet. But for newlyweds that are a little more settled, I think it would be such a cute present. Etsy has
a ton of different shops
that sell a wide variety of designs/options–I personally love
this one
,
this one
,
this one
, and
this one
!
There so many more cute, crafty wedding gift ideas on Pinterest/blogs all over the Internet, but those are just a few of my favorites. (If anyone wants to buy me one of these things for an anniversary gift, I wouldn't be mad–ha!)
At the end of the day, it's not about the gifts but it's really about celebrating the couple so no matter what you end up deciding on, it will no doubt be appreciated. But hopefully this post gives you a few ideas on what to give as wedding season gets into full swing! Xoxo